レビュー:「葉面散布:葉面から細胞質オルガネラまでの鉄の輸送に対する考察」
Date: 2019-06-24 (Mon)
以下の総説はポスドクレベルが懸命に勉強して書き上げたものと思われる。しかしよくかけているので掲載した。
  
   
   


Article in Archives of Agronomy and Soil Science · May 2019
DOI: 10.1080/03650340.2019.1616288

レビュー:

「葉面散布:葉面から細胞質オルガネラまでの鉄の輸送に対する考察」

Foliar fertilization: possible routes of iron transport from leaf surface to cell organelles

Hina Malhotra, Renu Pandey, Sandeep Sharma & Prem S. Bindraban


(要約)
  
鉄は植物栄養ばかりでなく人の健康に対しても枢要な役割を果たしている。
 
葉面散布は土壌施用よりも経済的で、標的指向的で、環境にやさしい代替技術として採用されてきた。
 
しかし、葉面散布は作物種、環境、鉄化合物形態、植物内での鉄の存在状態などに依存するので、複雑な実践となる。
 
根から地上部までの鉄の移行に関しては数多くの証拠が利用できるが、鉄の葉面(細胞外)から、様々な顆粒(細胞内)までの鉄の移行に関しては、わずかにしか知られていない。
 
本論説では葉面に与えた鉄が葉面の物理的バリアーを経て、アポプラストに到達し、細胞膜を通過して、細胞間連絡組織(プラズモデスマータ)を通じて、師管に積み下ろされたり、再度師管からくみ出されたりして細胞内コンパートメントに貯蔵されるまでの経路の可能性について提示している。
 
我々はまた、さまざまなキレート化合物が細胞間環境にあり、かつ細胞膜結合タンパクが鉄の動態を助けていることも強調しておいた。

さらに、葉面からの鉄の吸収輸送に関係している遺伝子についても議論した。
  
細胞内顆粒レベルでは顆粒外膜のimporter/exporterの遺伝子や(Fe(II) to Fe(III)の結合形態が同定される必要がある。
  
師管の鉄の長距離輸送は未知のoxido-reductasesの存在を支持している。葉面からシンク組織までの鉄の移行経路を理解することは鉄の分子的生物的強化に役立つだろう。

    
 
以下の図1、図2、図3の説明文は翻訳すると長くなるので、原文をそのまま添付しておきます。

Figure 1.
Schematic representation of the route of Fe after foliar spray. (a) Movement of Fe into the leaf after foliar application
by crossing the cuticle through stomatal and aqueous pores and reaching the internal cells. (b) Transport of Fe to other tissues
and organs (sink) through phloem loading and unloading once it enters from the leaf surface (source).


Figure 2.
Intra-cellular translocation of Fe transport from source leaves (Fe fed) to sinks. This includes apoplastic uptake,
movement through plasmodesmata, phloem loading and unloading and Fe movement to sink. After reaching apoplast (pH
5.5), Fe(III) is reduced to Fe(II) via FRO (ferric-chelate reductase oxidase), the light or ascorbic acid (A) and enters into the cell
cytoplasm via IRT1 (iron-regulated transporter) (B). Reduced Fe is complexed with nicotianamine (NA) present in cytoplasm (C)
and moves to adjacent cells via plasmodesmata (D). Fe(II) (or Fe(II)DMA) may also bind to apoplastic NA (E) to reach cell
cytoplasm (F) or directly into phloem (G) via membrane-bound YSL (yellow stripe like) transporters. The reduced cytoplasmic Fe
can also lead to the formation of dinitrosyl Fe complex (RS-Fe-NO) (F) that enters cytoplasm via some membrane-bound
transporter (G) and moves into chloroplast (H) for further action. Cytoplasmic Fe is loaded into phloem via symplastic (I) or
apoplastic pathway (J) as the Fe(II)NA complex. Unknown oxido-reductases oxidize Fe(II) to Fe(III) (K) which further binds it to
proteins (L). Long-distance transport of Fe occurs in this form through phloem (M). Fe(III)DMA can directly enter mesophyll cell
(N) or phloem (O) through diffusion or some membrane-bound carrier. Cytoplasmic Fe(III)DMA gets reduced to Fe(II)DMA via
NADPH-dependent FCR (P). Fe(III)DMA can also contribute to the long distance movement of Fe via phloem (Q). During phloem
unloading, Fe(III) is again reduced to Fe(II) and binds to NA (R) to enter sink cell via symplastic (plasmodesmata, M) or
apoplastic (YSL, T) pathway, ultimately reaching cellular organelles (U). OPT (oligopeptide transporter) can also contribute in
transporting Fe (V) but the chelating agent is unknown.


Figure 3.
Sub-cellular import, export and storage of iron. (a) Vacuole entry of Fe into vacuole takes place through VIT (vacuolar
iron transport) transporter. Fe may bind with ferritin or phosphate and stored as complexes internal in vacuolar globoids.
NRAMP (natural resistance associated macrophage protein) releases Fe from these stored forms and exports Fe out of the
vacuole. YSL (yellow stripe like) plays dual role by importing and exporting vacuolar Fe. (b) Chloroplast Fe import in outer
chloroplast envelope is mediated as Fe(III) by unknown importer. FRO (ferric-chelate reductase oxidase) localized on inner
envelope reduces ferric to ferrous form which is then imported into stroma by PIC (permease in chloroplast), NiCo (nickelcobalt
transporter family), NAP14 (non-intrinsic ABC transporter protein), MAR1 (multiple antibiotic resistance) and MFL
(mitoferrin like) transporters. FDR 3 (Fe deficiency related) is localized in stroma or thylakoid lumen to import Fe into
thylakoids. Ferritin is Fe storage protein in chloroplasts. (c) Mitochondria Fe is imported into outer mitochondrial membrane
through unknown transporter followed by entry into mitochondrial inner envelope through MIT (mitochondrial iron transport)
after reduction by FRO located on inner envelope. Here it is stored as Ferritin-Fe or forms Fe-S clusters using frataxin (FH). Fe is
exported to the cytosol through ATM/MIE (mitochondrial ATP cassette transporter/mitochondrial iron exporters) though
transporter for its export from outer membrane is unknown.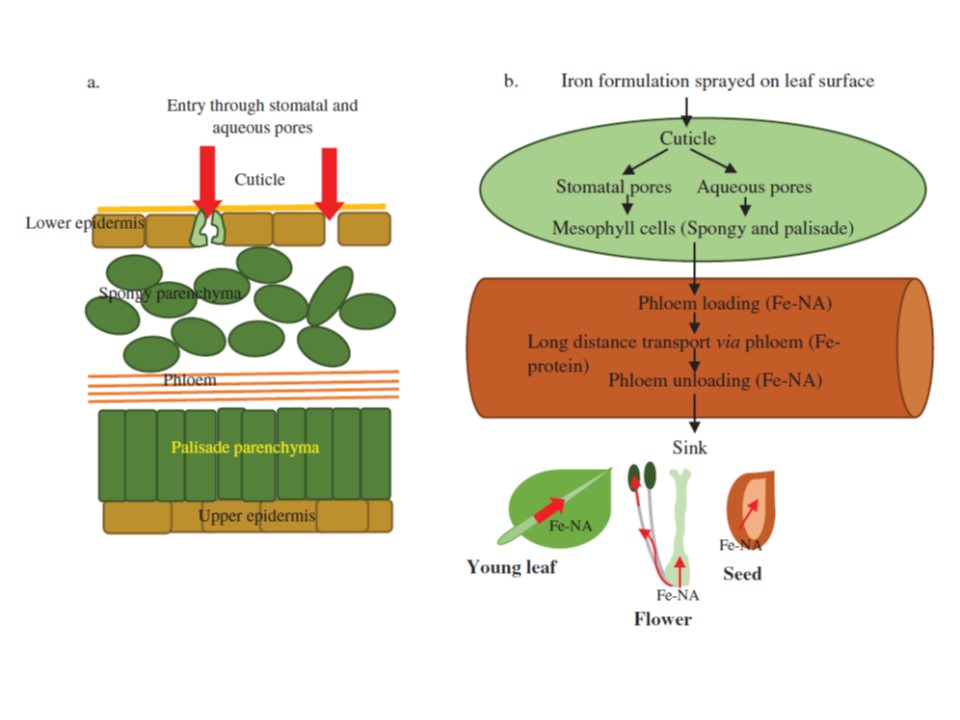 図1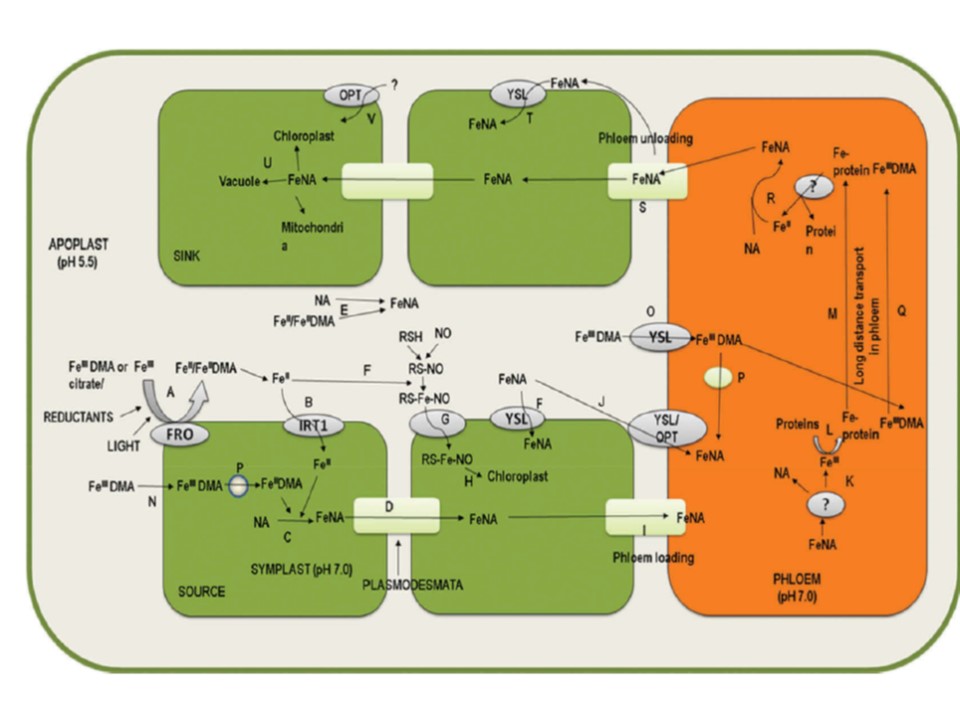 図2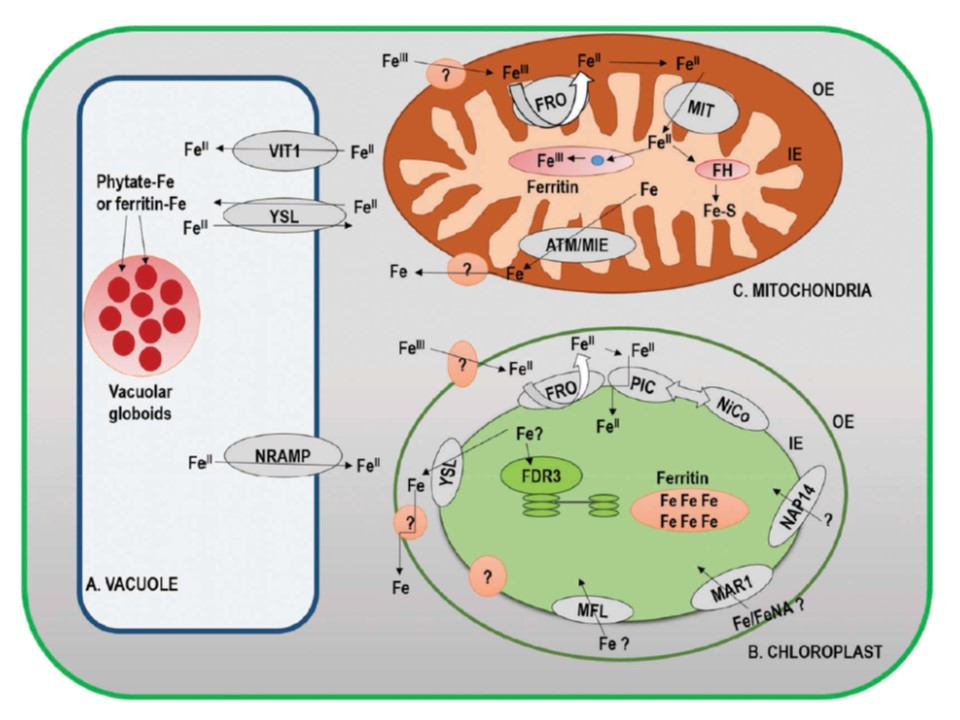 図3